QUANZHOU JINGLI ENGINEERING MACHINERY CO. LTD.
jg-excavator.en.made-in-china.com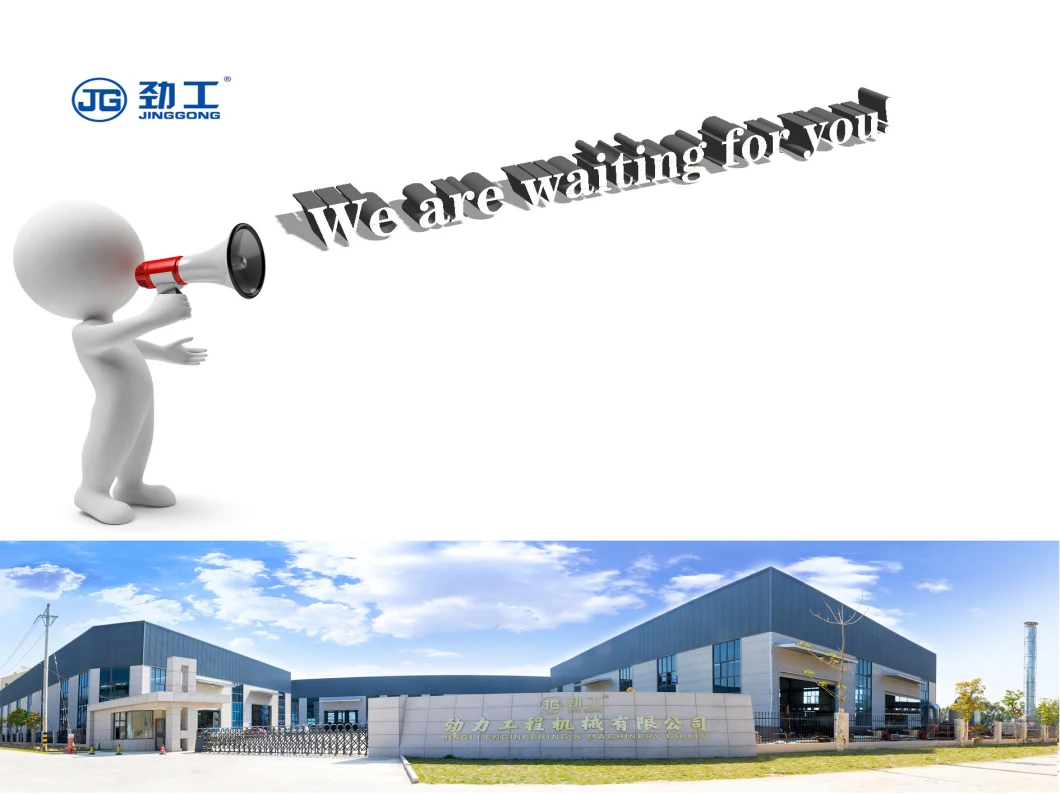 PRODUCT DESCRIPTION
Rotating log grapple for mini excavator sugar cane grabber loader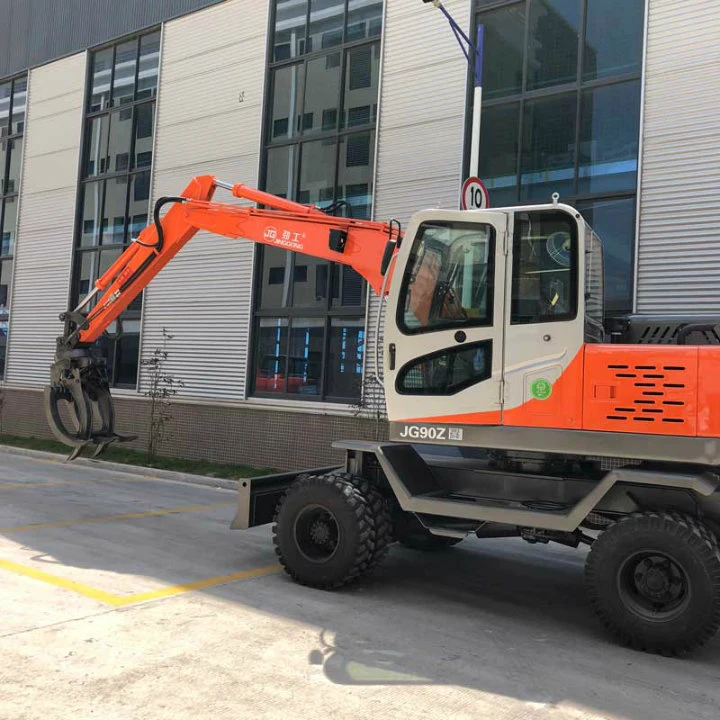 JG90Z is one of the most popular grapple wheel excavators of our company. As early as 2009, we had
started our research and design of it. After years of careful innovation and trials, this excavator now
shows excellent working efficiency and stable performance, contributing to a wide application in China
and Southeast Asia.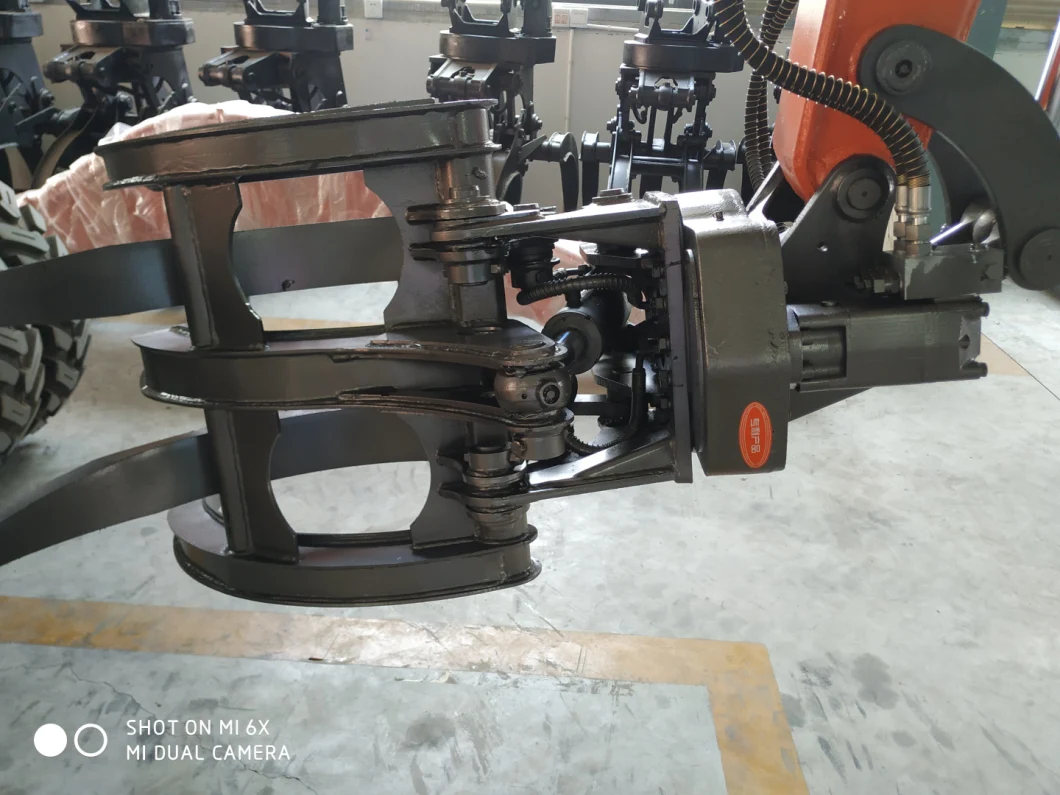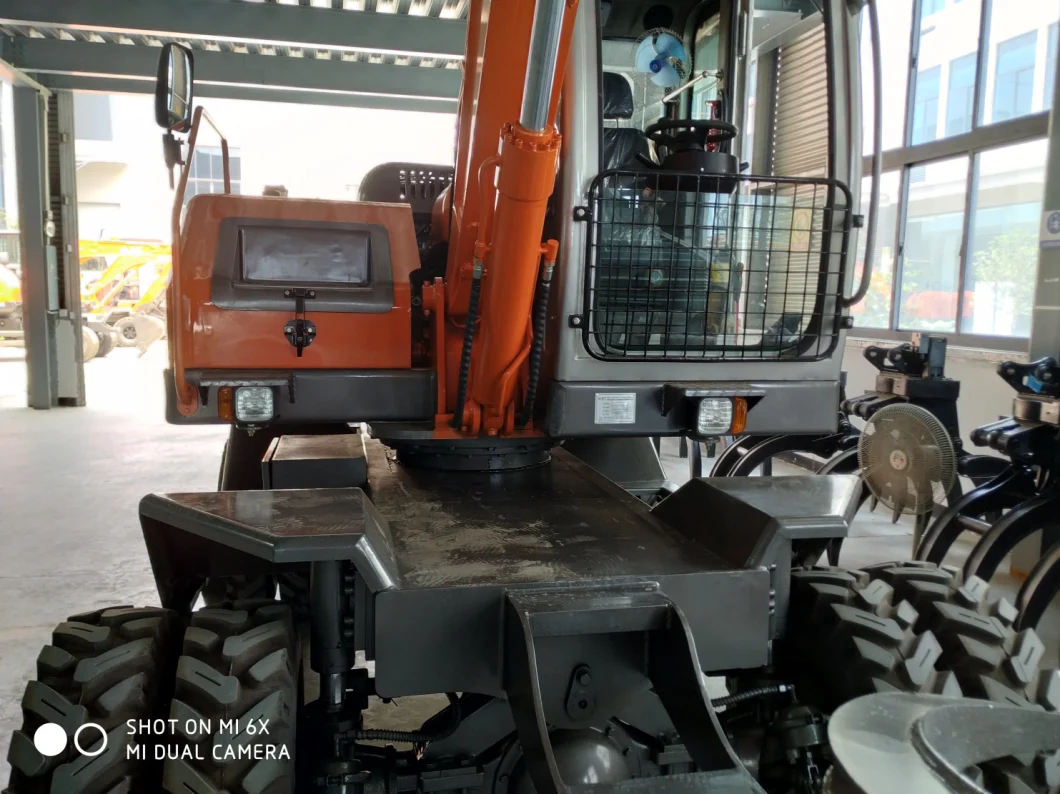 The operator can control the rotation speed, and can rotate freely 360 degrees clockwise and counterclockwise.
The grab has a 360° rotation angle, realizing a significant decrease in loading and unloading time and cost of woods,
sugarcanes or other similar materials.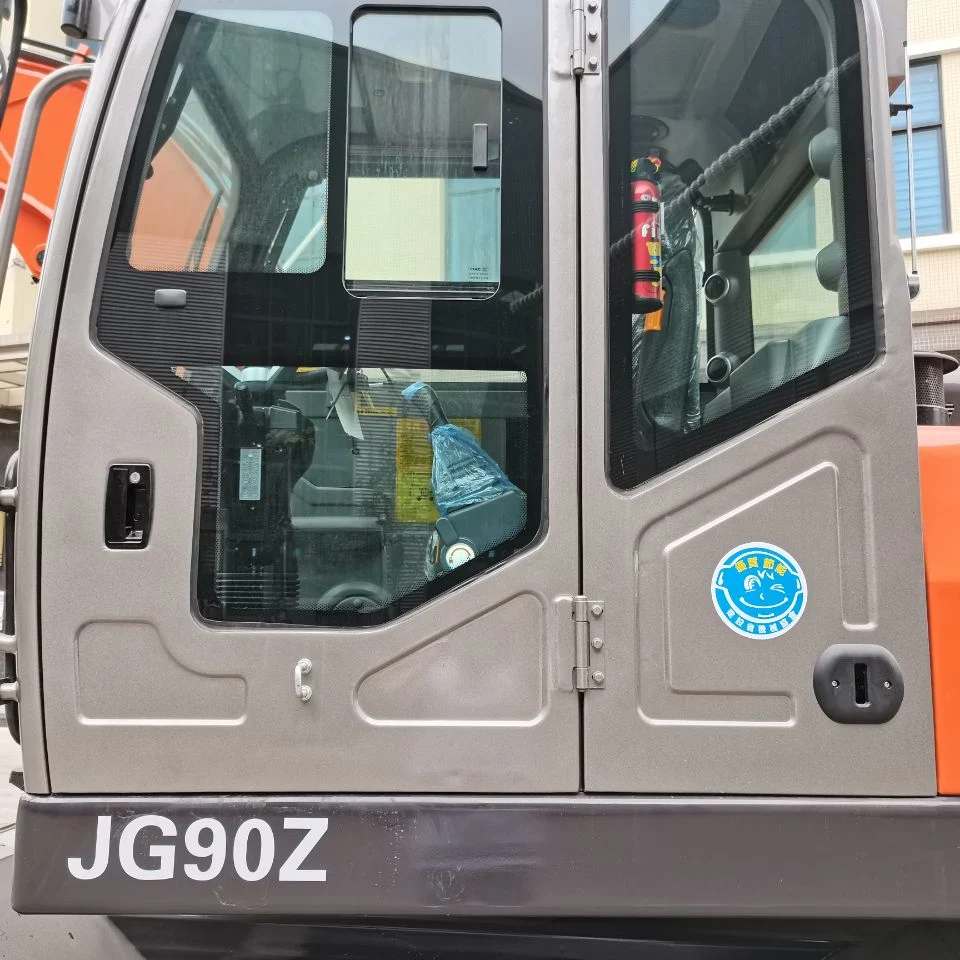 In addition to this, it also provides a high degree of security and safety and brings abundant social and economic benefits
to clients.
The interior of the cab is equipped with joysticks, electrical switches, monitoring panels, air conditioners and radios, etc.
The driver's seat can be adjusted according to the driver's requirements. The use of strong environmentally friendly glass
has the characteristics of high strength, UV protection and good sealing performance. The driver's cab with super wide field
of view ensures good visual effects.
SPECIFICATIONS
SPECIFICATIONS

RANGE OF OPERATION

Boom Length

3475mm

Arm Length

1850mm

Max Radius Of Capture

6800mm

Grab The Biggest Opening Width

1200~1500mm

Grab The Minimum Opening Width

100~300mm

Maximum Radius Weight Capacity

0.5~0.6t

Grapple Rotation Angle

360°

Max Dumping Height

4700mm

Back-End Radius Of Gyration

1980mm

DIMENSION

(Length*Width*Height) Travel Position

6000*2100*2850mm

Wheel Base

2400mm

Track(Front/Rear)

1660mm/1580mm

Ground Clearance Of Counterweight

1060mm

Min Ground Clearance

265mm

TECHNICAL PARAMETERS

Angle Of Rotation

360°

Machine Weight

6800kg

Engine Model

YN38GB2/4102

Rated Power

58.8kw

Rated Speed

2200r/min

Hydraulic System Working Pressure

21Mpa

Hydraulic system flow

110L/min

Metering gear pump

2*25ml/r

Grapple Swing Speed

12r/min

Walking Speed

25km/h

Grade Climbing Ability

58%/30°

Tyre model

825.16

Revolution overdrive pressure

16Mpa

Full Circle Swinging Time

5.5s

Fqt Fuel Quantity

≥4L/h

Capacity Of The Fuel Tank

110L

Hydraulic Tank Capacity

110L
Optional Working Device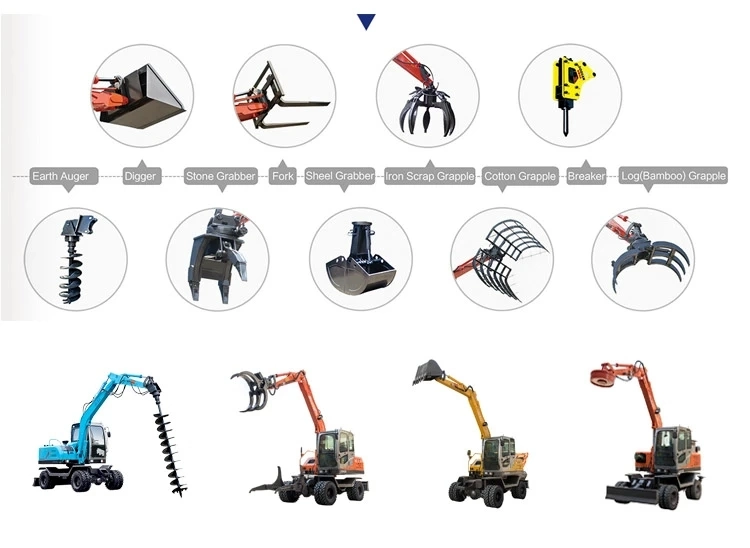 We provide more optional parts to complete more kinds of work. We provide a variety of work tools such as grabs, forks,
pulverizers, etc. to meet your various application needs. In addition, a variety of fixtures are provided to optimize the
performance of the machine. The auxiliary hydraulic lines are arranged on the base of the boom, making the auxiliary
hydraulic circuit easier to install, thereby reducing the time, parts and costs required for installing work tools.

WORKSHOP DISPALY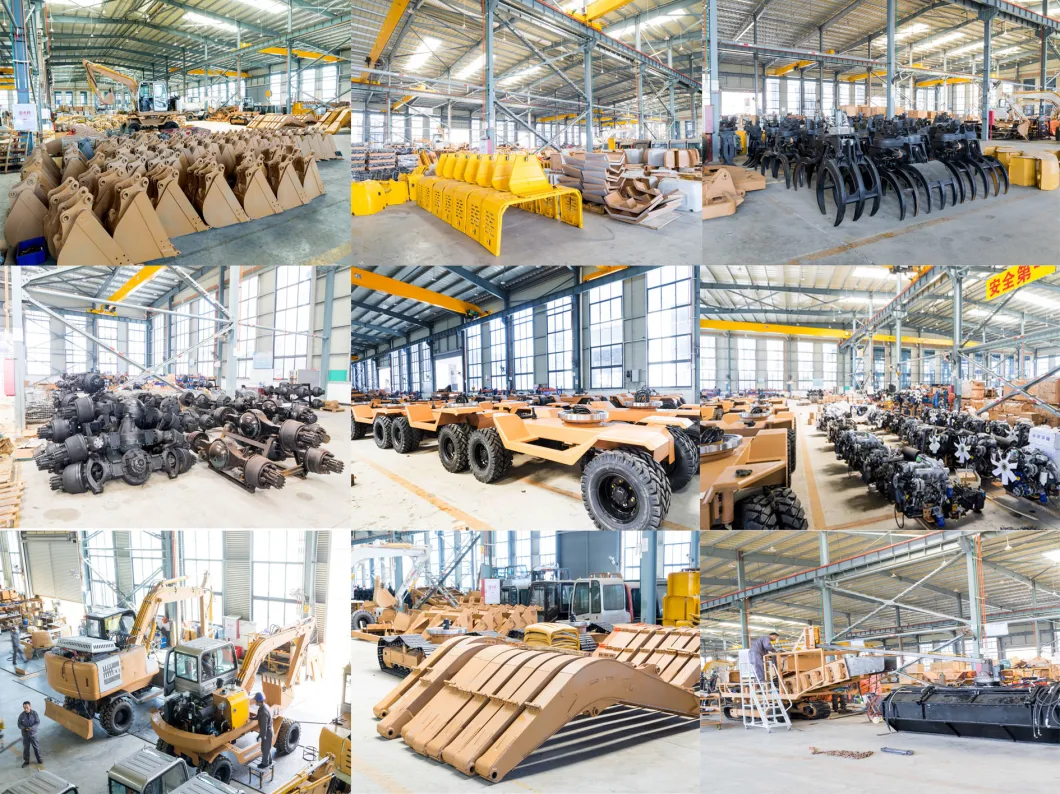 Our company abides by the business philosophy of "quality first, customer first" to ensure product quality. We have
rigorous production procedures, and each production process is carried out under strict quality inspection.Only after
passing the inspection can they move on to the next procedure. At the same time, we insist on creating a neat, clean
and safe working environment.
PACKING&SHIPPING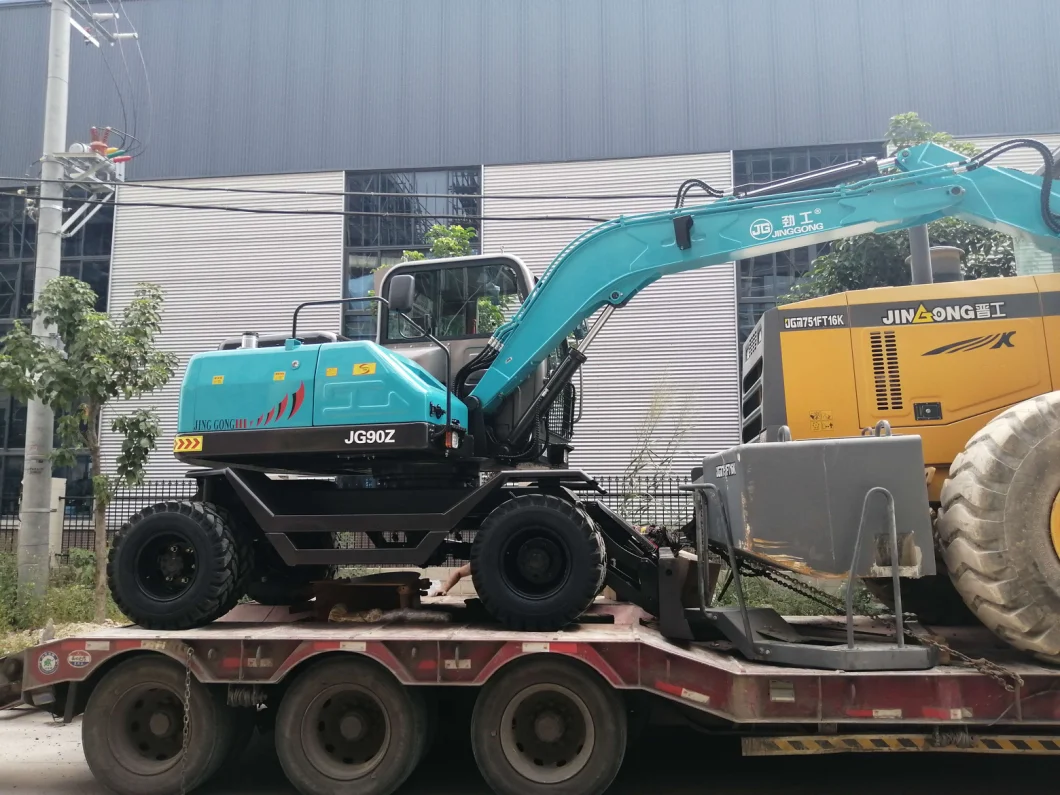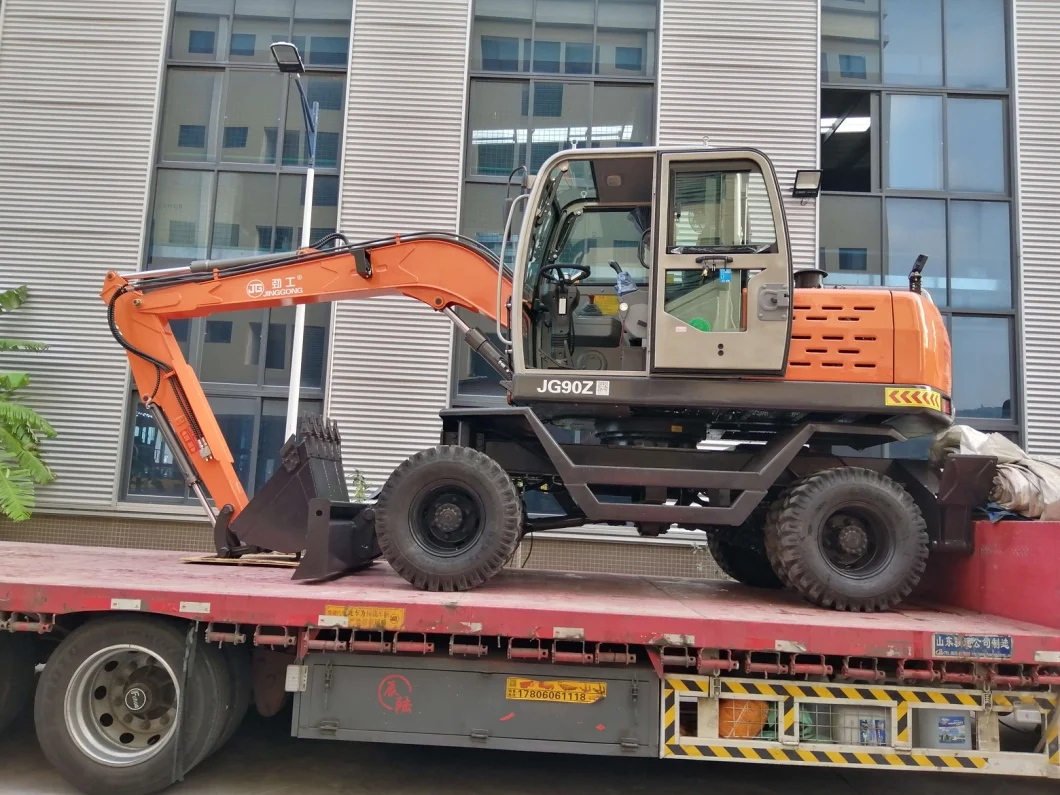 FAQ
WHAT ARE OUR ADVANTAGES COMPARED WITH
TRADING COMPANIES
?
1.
Competitive Price
-- We
a Chinese
leading manufacturer
of Wheel Excavators
,
Crawler Excavators,
Sugarcane
Harvester, Sugarcane Grabber Wheel Loader, and Wood Clamping Wheel Loader
with
good quality, professional
service and lower
price.
2.
Quick Response
-- Our team is consisted of a group of diligent and enterprising people working 24/7 to respond
client inquiries and question all the time. Most problems can be solved within 12 hours.
3.
Fast Delivery -
- Normally it will take more than 30 days to produce the ordered machines, while we have a variety
of resources, locally and nation widely, to receive machines in timely manner. In 70% circumstance, we can have
an immediate delivery of regular machines for our clients
4.
Sole Agent wanted
-
You may apply our sole sales agent of our factory in your country, if there is no agent yet in
your local area, to open your market working together.
EXIHIBITION SHOW