Eco-friendly herb dryer oven for honeysuckle/ orange peel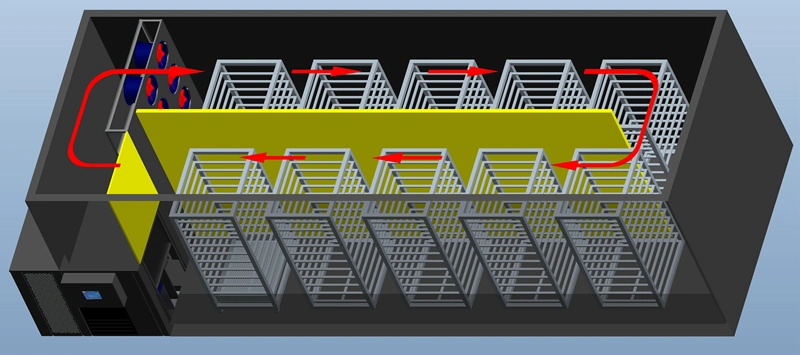 Introduce of KINKAI Heat Pump Dryer
A device that transfers heat from a colser area(ambient temperature) to a hotter area(drying chamber) by using mechanical energy, as in a refrigerator.
How KINKAI Works?
KINKAI
heat pump dryer operatures according to a basic air conditioning cycle involving four main componrnts: the evaporator, the compressor, the condenser and the expansion valve. the working fluid(refrigerant) at low pressure is vaporized in the evaporator by heat draw from the dryer exhaust air. The compressor raises the enthalpy of the working fluid of the heat pump and discharges it as superheated vapor at high-pressure. Heat is removed from the working fluid and returned to the process air at the condensor. The working fluid is then throttled to the low-pressure line(using an expansion valve) and enters the evaporator to complete the cycle. In the dryer system, hot and dry air at the exit of condenser is allowed to pass through the drying chamber where it gains latent heat from the material. The humid air at the dryer exit then passes through the evaporator where condensation of moisture occurs as the air goes below dew point temperature. Then drain the condenser water.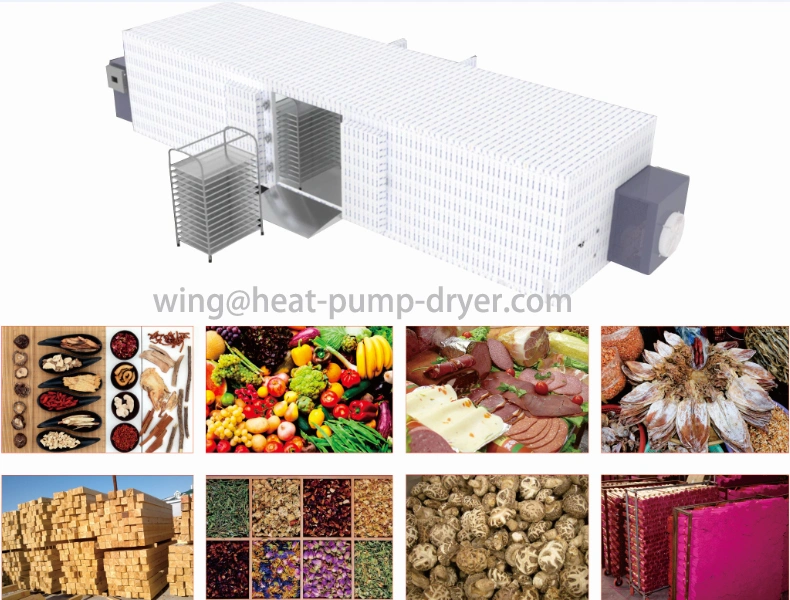 KINKAI Heat Pump Dryer Application
Drying herb:
pseudo-ginseng, aniseed,RADIX MORINDAE OFFICINALIS, dendrobe, Chinese yam, glossy ganoderma, sea cucumber, honeysuckle, flower, fructus momordicae(Luo Han Guo), cassia, ginseng, ginger, maca, Chinese wolfberry, Chinese angelica root etc.
Drying agriculture products:
Dragon fruit flower, rose, chrysanthemum flower, mushroom, edible fungus, sweet potatoes, okar, white fungus, edible tree fungus, red pepper, Daylily, Agrocybe aegerita, henryst eudnera tuber, dried vegetables, baboo shoot, cassava, starch, tomato etc.
Drying fruit:
Longan, Litchi, banana, mango,date, waxberry, plum, lemon, raisin, artocarpus heterophyllus lam, kiwi fruit, dried persimmon, olive, candied fruit ect.
Drying food:
sausage, preserved pork, smoked fish, intestine and casing, rice noodles, noodles, beancurd sticks.
Drying seafood:
sea fish, squid, shrimp, seaear, trepan, cuttlefish, hippocampi etc.
Drying tea:
puer, red tea etc.
Drying incense:
inscense, mosquito incense etc.
Drying wood:
redwood, redwood furniture, bamboo products etc.
Function (Touch Screen)
Drying
Cooling
Dehumidify
Our Workflow Chart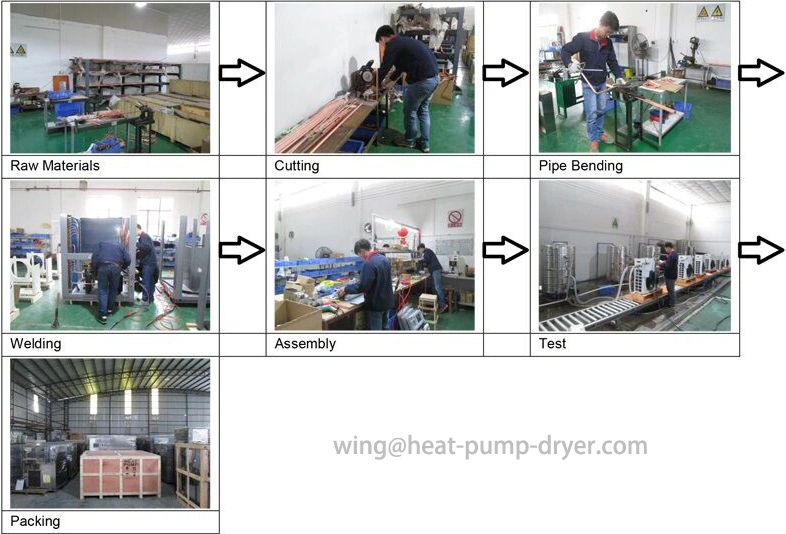 KINKAI Heat Pump Dryer Features
1. Economical
KINKAI Heat Pump technology offers running costs that are typically up to 75% lower than with a conventional drying machine.
2. Environmentally Friendly
By electric, no pollution
The combinationof lower energy input, reduced operational consumption "wastage", KINKAI manufacturing quality, and extended design life ensure the impact of a Heat Pump dryer upon the environment and natural resources is lower than any comparable traditional drying solution.
3. Multifunction
Heating drying, Cooling drying and Dehumidify
Buying Guide
Model
Dryer Qty
Product capacity
Chamber Size
Power Consumption

JK03RD

Single

300kg/ batch

4000x2000x2200mm

4.8kw

Double

1300kg/ batch

7000x2000x2200mm

9.6kw

JK06RD

Single

600kg/ batch

6000x2800x2200mm

8.5kw

Double

1500kg/ bacth

10000x2800x2200mm

17kw

JK12RD

Single

1000kg/ batch

6000x3000x2200mm

15kw

Double

3500kg/ batch

10000x3000x2200mm

30kw
Technical Parameters
Single Type
MODEL
UNIT
JK03RD
JK06RD
JK12RD
POWER SUPPLY

V/PH/HZ

380V/3PH,50/60HZ

380V/3PH,50/60HZ

380V/3PH,50/60HZ

220V/1PH,50/60HZ

RATED CURRENT

A

9.6A(380V),22A(220V)

17.0

30.0

HEATING CAPACITY

KW

10.5

21.0

42.0

COOLING CAPACITY

KW

7.8

18.0

32.0

DEHUMIDIFY

L/H

12.0

25.0

50.0

TEMPERATURE

C

10-75

10-75

10-75

NOISE

dB(A)

75

75

75

ELECTRIC HEATER

KW

3.0

6.0

12.0

DRYER DIMENSION

MM

1675X860X1280

1760X1060X1280

2120X1360X1590

WEIGHT

KG

180

285

480
Double Type
MODEL
UNIT
JK03RD
JK06RD
JK12RD
POWER SUPPLY

V/PH/HZ

380V/3PH,50/60HZ

380V/3PH,50/60HZ

380V/3PH,50/60HZ

220V/1PH,50/60HZ

RATED CURRENT

A

19.2A(380V),44A(220V)

34.0

60.0

HEATING CAPACITY

KW

21.0

42.0
84.0
COOLING CAPACITY

KW

15.6
36.0
64.0
DEHUMIDIFY

L/H

24.0

50.0

100.0

TEMPERATURE

C

10-75

10-75

10-75

NOISE

dB(A)

75

75

75

ELECTRIC HEATER

KW

3.0x2

6.0x2

12.0x2

DRYER DIMENSION

MM

1675X860X1280

1760X1060X1280

2120X1360X1590

WEIGHT

KG

180x2

285x2

480x2
Application Cases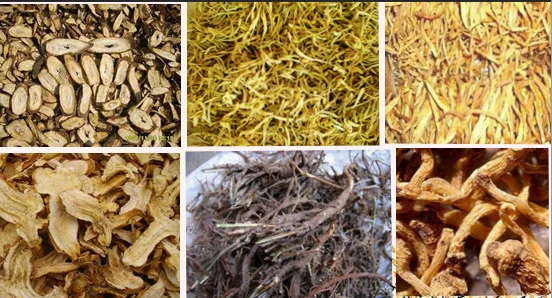 How to dryer honeysuckle with KINKAI Dryer?
Phase 1




First, preheat the drying cabinet to 35-40°C, put fresh honeysuckle in the cabinet and then hold the temperature at 40°C for 4-6 hours while removal of moisture is enhanced.

Phase 2




Raise the temperature in the cabinet from 41 to 48°C gradually within 5-7 hours. Make it sure that the temperature is no higher than 50°C while removal of moisture is enhanced at the same speed. After 9-13 hours of low and medium-intensive drying and strong removal of moisture, honeysuckle

becomes dried half.

Phase 3




Remain 50-54°C in the cabinet for 2-4 hours while slowing down the removal of moisture to help raise the temperature. After Phase III, 80% of water in honeysuckle is removed.

Phase 4




The temperature shall be 55-65°C in the drying cabinet, and no higher than 70°C for 2-4 hours, while removal of moisture shall be slowed down properly. With the procedure, halt the dryer according to the color of honeysuckle.
Delivery and Package
1. For heat pump dryer part --- with plywood
2. For drying chamber and trolleys&trays
If shipped with 20ft container or 40ft container, no packing
If shipped with LCL(less than container load), packed in plywood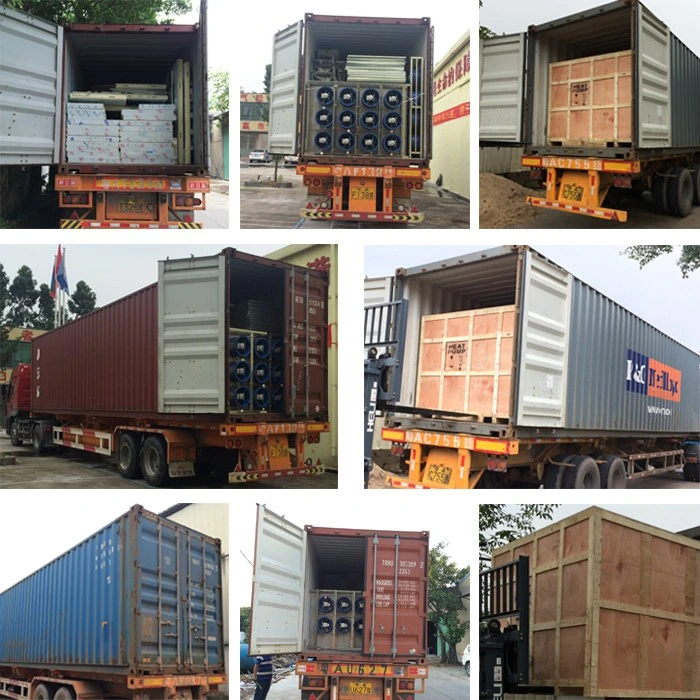 Our Service
A. Payment service
1. T/T
2. L/C (for container order only)
3. Western Union (for sample order&parts)
B. Technical Service
1. We calculate the capacity and recommend the best models.
2. We supply you the professional refrigeration technical support and electronic technical support for your installation, debugging and operation.
3. We supply the spare parts and technical support in & after the warranty time.
4. We supply the training course to your workers at our factory if you need.
C. After-sales service
1. Technical support for your installation, operation and maintenance.
2. One year's warranty, and you can pay for extended warranty.
3. Spare parts and technical support at most economic prices after the warranty.
More details you require, please feel free to contact Wing.
Tel: 008613570470153