Epimedium Extract /
Horny Goat Weed Extract
of
Hunan Sunfull Bio-tech Co., Ltd.
Common Name:
Epimedium or Horny Goat Weed
Latin Name:
Epimedium brevicornum
Maxim.; Epimedium sagittatum (Siebold. et Zucc.) Epimedium koreanum Nakai.,Epimedium pubescens,Epimedium sinense, Epimedium wushanense T.S.Ying.
Family:
Berberidaceae
Part of the Plant Used
:
Leaf (dried100% Natural)
Active Ingredients:
Icariins (including Icariin, Epimedin A, Epimedin B, Epimedin C and Epimedioside A)
Molecular Structure of Active Ingredients


Product Specification
Icariins 10% 20% 30% 40% 70% 90% 98%
Product Introduction
Epimedium, which is used in Traditional Chinese Medicine and Japanese "Kampo" to prepare a warming or "Yang" tonic for the kidney, has a broad range of therapeutic properties. Early in the Han Dynasty, it was recorded "cure impotence, ease penis pain, diuretic and strengthen the mind" in herbal classical literature. Since then, Epimedium has been widely used in TCM prescriptions. In the works China Codex, Epimedium was recorded as following: benefit the kidney, build up bones and muscles, and drive away rheumatism. It can cure impotence and spermatorrhea, ease body fatigue, relieve rheumatism pain and are good for hypertension in menopause.. Epimedium is grown as an ornamental herb in Asia and the Mediterranean region, and various species are used for medicinal purposes, including Epimedium sagittatum, Epimedium brevicornum, Epimedium koreanum, and Epimedium pubescens. The leaves of Epimedium contain a variety of flavonoids, polysaccharides, lignans, sesquiterpenes, phenolic and penethylol glycosides, ionones, sterols, and an alkaloid called Icariins
.
HPLC Chromatogram of Epimedium Extract 30% Icariins ( 15% Icariin)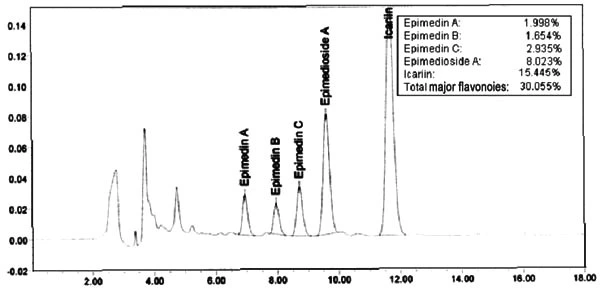 Physiological Functions
1. Effect on sex function. Epimedium has the function of aphrodisiac. It results in the hyperfunction of sperm excretion, and when the spermatophore is full, sensory nerve will be stimulated and sexual impulse will rise. Icariin increases male hormone level, which can obviously speed up the growth of epididymitis and spermatophore of mice. For the spermary Leydig's cell of test-tube mature rats, Icariin obviously accelerates the basic exudation of testosterone, which provides evidence for the treatment of male's sterility with low level of testosterone.
2. Effect on immunity. Some experiments proved that Epimedium Flavone had the ingredient to expedite immunity function, to assist in the reaction of cell and body fluid immunity and to strengthen the phagocytosis function of macrophage. Epimedium Amylose can make immunity more activated and increase the number of antibody of spleen.
3. Anti-caducity. It was reported that Epimedium Amylose and Flavone could actively resume the function of repressive T and B lymphocyte, which relieved the backlog of fat metabolite of liver and could effectively reduce the fat content in liver. It was proved that Flavone and Amylose were the active ingredients to resist caducity.
4. Benefit cardiovascular system. The extract can lower blood pressure of rabbit, which concludes that Epimedium flavone plays an important role in cardiovascular system and provides a reliable theoretical evidence for clinical application.
Applications
1. Pharmaceutical stuff
2. Intermediate of the medicine
Toxicity Research
Epimedium Extract has low toxicity, LD50 value from mice (ip) is 36g/kg. There are no reports of adverse effects associated with the traditional preparation of Epimedium (water- extracted) at the suggested dosage (250 to 1,000mg per day).
Company Introduction
HUNAN SUNFULL BIO-TECH Co., Ltd., certified with ISO9001, ISO22000, Kosher, HALAL & HACCP, and specialized in the R&D, production and marketing of high value green tea and botanical extracts for dietary supplement, beverages, cosmetics & pharmaceuticals. We're the global leading manufacturer of green tea EGCG, (-)-Epicatechin, L-theanine, Theaflavins & Tea Polysacchrides. Our key botanical extracts including Aronia extract, Broccoli extract (Sulforaphane), Ginseng extract, Luo han guo extract, Maca extract, Milk thistle extract, etc. And many APIs (Amygdalin, Magnolol, Polydatin, Resveratrol, Sanguinarine, Swertiamarin, etc. ) Our products have been enjoying great popularity in the world markets due to their superior quality and competitive prices. SUNFULL also has becoming the 1st choice of natural ingredientsto many global famous enterprises and their most important strategic partner in China.